Latest News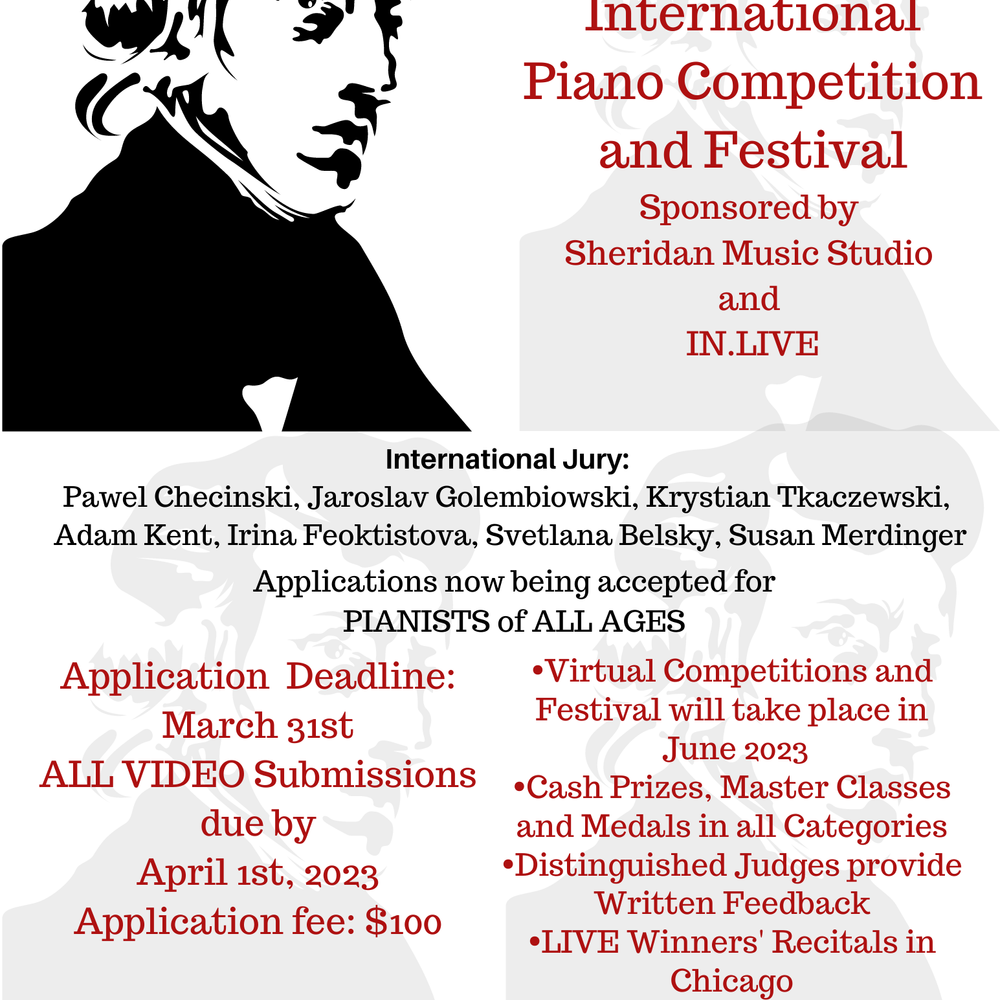 2023 Chopin with a View International Piano Competition and Festival
Fourth Annual Competition!
Distinguished Jurors are announced and Applications are accepted now through March 31st, ( Late fees have been waived) with video submissions due by April 1st.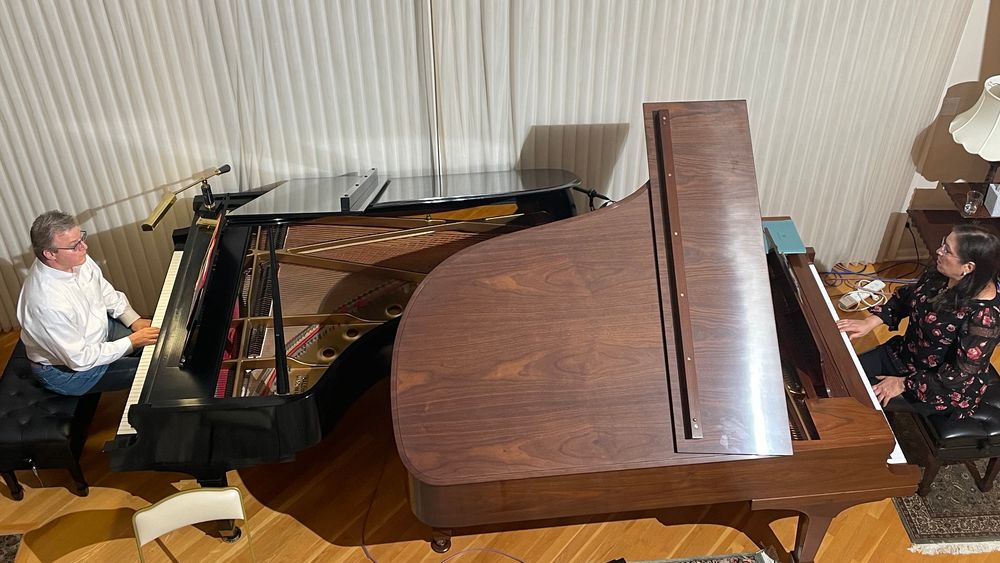 Ringing in the New Year 2023
Annual Musicale draws a record crowd!
Susan and Steven Greene, Owners of Sheridan Music Studio host the Annual New Year's Day Musicale in their home- after a two year suspension due to the Pandemic! A delightful group of musicians and music lovers enjoyed a 5 hour long party with homemade food and drink, and glorious music performed by some of Chicago's finest musicians. Click on the link to view the full-length video!
Performers included: Aidan and Leilan Watts, violinists; Grace Tong, pianist: Tao Tong, tenor; Cantor Stefanie Greene, soprano; Charles Pikler, viola and violin: Steven Greene, piano; Xiaoping Wang, piano; Susan Merdinger, piano; Irina Feoktistova, piano; Nora Williams, viola; Violetta Todorova, violin; Martine Benmann, cello; Sasha Levinson, cello; Ilya Levinson, piano; 
SEATLLE INTERNATIONAL PIANO COMPETITION GOLD MEDAL WINNER ANNOUNCED!
JOHN TETI WINS GOLD IN THE ADULT AMATEUR PIANO DIVISION
JOHN TETI, a Dartmouth College graduate, and owner of his own family business, is passionate about playing the piano. He has been studying with Susan for about two years, and is seriously considering a second career in music!  John won  a Gold Medal in his division with a live unedited video recording of Mozart's Sonata in C minor. K. 475 and Chopin's notoriously difficult Ballade No. 2 in F major. Bravo, John!
WE'VE MOVED!
NEW HOME STUDIO!
CONVENIENT, COMFORTABLE and WELL-APPOINTED!
We have Steinway and Baldwin Concert Grand Pianos and a two-story Music Room, Full Music Library and Recording Equipment!
And, of course, expert piano and chamber music instruction by Steinway Artist, Susan Merdinger!
NEWS FLASH!
SHERIDAN MUSIC STUDIO IS MOVING!
AS OF JUNE 21, 2022, Sheridan Music Studio will move from Sheridan Road in Highland Park to Fort Sheridan!
Details to follow! All the same quality lessons, soirees and livestream events and concerts will take place at the new location!
Stay tuned for more exciting news!
Rafael Vivanco, Classical Guitarist
In Recital March 13, at 3pm
Classical Guitarist, Rafael Vivanco is set to perform on March 13, 2022 at 3pm Central Time for Sheridan Music Studio's Music with a View concert series.
   Rafael Vivanco started playing the guitar at the age of 11 in Peru. He performed regularly in Lima while studying classical guitar with Alonso Acosta Ojeda. He went on to complete his Bachelor of Music degree in classical guitar performance at the University of British Columbia in Canada, where he also learned to play the lute and the baroque guitar with members of the Vancouver Early Music Ensemble. He received his Master of Music degree at Roosevelt University in Chicago. He has also taken lessons and masterclasses from guitarists such as Eduardo Fernandez, Fabio Zanon, Jason Vieux, Alexander Dunn, Michael Strutt and Ray Nurse.     Rafael was sponsored to teach and perform in the USA for over 10 years by Jim Scoglietti of Sherry Brener Inc., the Spanish guitar importer and Guitarra Magazine editor who collaborated with icons such as Andrès Segovia and Christopher Parkening, to popularize the Spanish guitar around the world. Rafael's live performances have been broadcast on public radio, and he has been a recurring guest in music festivals such as The Chicago Latino Music Festival, The Chicago Flamenco Festival, The Latin American Guitar Festival of Chicago and the International Guitar Festival of Milwaukee, among others. He was also given an artistic residence at the Cervantes Institute of Chicago in 2017, where he taught and performed. Rafael has participated in several ensembles like The UBC Guitar Quartet, and The Early Music Series of Collegium Musicum at the University of British Columbia, and with other projects such as the Spanish music group Kantuz, the piano and guitar group Duo Vivanco/Sikina, and the Lisa Zane Ensemble.
Mozart with a View International Festival and Competition 2022
Deadlines January 10th and 25th
Sheridan Music Studio is sponsoring our 3rd Annual Music with a View Festival and Competition - Mozart with A View. This year we have more instrument, ensemble and age categories. If you love Mozart, now is your chance to shine! Ages 8-88!
CANCELED AND POSTPONED: Sheridan Music Studio's Annual Gala Fundraiser Concerts featuring Pianissimo! and The Allegro String Quartet
DATES TBD!
We have an exciting program planned for our gorgeous studio in downtown Chicago- featuring the Mozart Three Piano Concerto, the Bach Two Piano Concerto in C minor, Overture to The Marriage of Figaro, Mozart's most famous Arias, Saint-Saen's Danse Macabre, and so much more! YOur ticket entitles you to LIVE admission- OR a Live-Stream, if we must limit audience attendance due to COVID19. The shows will go on! We are raising money for Sheridan Music Studio Foundation NFP- concert series, competition, scholarships and studio enhancements. Your generosity helps our programs and directly helps many professional and aspiring  musicians make a difference in people's lives!
A Halloween Haunting in Music and Literature
Susan Merdinger and Friends!
Sheridan Music Studio Founder and Artistic Director, Susan Merdinger, presents a special run of a "Ghost-Themed" Concert, Book Presentation and Discussion: A Halloween Haunting in Music and Literature. The pre-recorded concert features Merdinger along with Violinist Alex Koffman and Cellist Martine Benmann in a program of "ghost" music including Beethoven's Ghost Trio Op. 70 No.1, William Bolcom's Graceful Ghost Rag for Solo Piano, and A World Premiere of "The Dybbuk Piano Trio" (2021) by Grammy-nominated composer Ilya Levinson , Composer-in-Residence at Sheridan Music Studio. The concert is then followed by a Book presentation by Karen Kaplan, Author of "Conjoined: A Holocaust Haunting- One Man, Two Hearts and Me", and concludes with a three-way discussion with the Pianist, the Composer and the Author. Virtual Livestream tickets start at $15 each, and the proceeds will go to help establish scholarships for young aspiring musicians. www.susanmerdingerpianist.com www.karenlkaplan.com www.ilyalevinsonmusic.com
Grand Prize Winner in Recital
Zhisheng Wang, piano
Sheridan Music Studio is pleased to announce the Grand Prize Winner of the Bach with a View International Festival and Competition, Pianist Zhisheng Wang, will appear in recital as part of the Music With a View Concert Series at Sheridan Music Studio Chicago. Seating is limited, masks and proof of vaccination will be required to attend. A professional Livestream of the concert will be available for purchase at sheridanmusicstudio.in.live.
Mr. Wang was selected to be the Grand Prize Winner by a distinguished jury of the Bach with a View International Festival and Competition, and he is already a winner of numerous prizes and scholarships. He is currently studying for his Master of Music in Piano Performance at the University of Michigan, and previously received his BM degree from the Manhattan School of Music.