Latest News
The Kaia String Quartet
Presented by Sheridan Music Studio
The Music with a View Concert Series resumes in March with a scintillating concert program  of Latin American Music offered by one of Chicago's hottest young String Quartets. 
From the tango of the Rio de la Plata to the string quartets of Silvestre Revueltas, the KAIA String Quartet is an ensemble devoted to promoting the rich and colorful music of Latin America. Active performers in both the US and abroad, highlights of the 2019-2020 season include a residency at the Avaloch Farm Institute, a concert tour in Uruguay and Argentina including a performance at Teatro Colón in Buenos Aires, as well as performances at various concert series in North Carolina, Virginia, and Wisconsin. 
The Quartet plays an active role in Chicago's music scene where they are regular guests at the Chicago Latino Music Festival and the Ukrainian Institute of Modern Art. In 2017, KAIA was the first ensemble in residence at Chicago's classical radio station, WFMT. During this residency they explored the world of Latin classical music with audiences through daily radio segments, performances and broadcasts around the city and the production of KAIA Kids, a series of children's education videos.
Celebrated by Downbeat magazine for its ability to "beautifully blur the lines between jazz, classical, Latin and world music" KAIA's album collaboration with Fareed Haque was chosen by Chicago Tribune's Howard Reich as one of the top ten classical recordings of 2018. Their album, Sureño, explores the music and relationship of Argentinian composers Astor Piazzolla and José Bragato. The latest recording project released in 2020 includes a collaboration with jazz pianist Ryan Cohan in his work Originations. KAIA together with Cohan and his chamber ensemble were featured performing this piece at 2019 Chicago's Jazz Fest main stage. 
Mozart with a View International Festival and Competition 2022
Deadlines January 10th and 25th
Sheridan Music Studio is sponsoring our 3rd Annual Music with a View Festival and Competition - Mozart with A View. This year we have more instrument, ensemble and age categories. If you love Mozart, now is your chance to shine! Ages 8-88!
CANCELED AND POSTPONED: Sheridan Music Studio's Annual Gala Fundraiser Concerts featuring Pianissimo! and The Allegro String Quartet
DATES TBD!
We have an exciting program planned for our gorgeous studio in downtown Chicago- featuring the Mozart Three Piano Concerto, the Bach Two Piano Concerto in C minor, Overture to The Marriage of Figaro, Mozart's most famous Arias, Saint-Saen's Danse Macabre, and so much more! YOur ticket entitles you to LIVE admission- OR a Live-Stream, if we must limit audience attendance due to COVID19. The shows will go on! We are raising money for Sheridan Music Studio Foundation NFP- concert series, competition, scholarships and studio enhancements. Your generosity helps our programs and directly helps many professional and aspiring  musicians make a difference in people's lives!
A Halloween Haunting in Music and Literature
Susan Merdinger and Friends!
Sheridan Music Studio Founder and Artistic Director, Susan Merdinger, presents a special run of a "Ghost-Themed" Concert, Book Presentation and Discussion: A Halloween Haunting in Music and Literature. The pre-recorded concert features Merdinger along with Violinist Alex Koffman and Cellist Martine Benmann in a program of "ghost" music including Beethoven's Ghost Trio Op. 70 No.1, William Bolcom's Graceful Ghost Rag for Solo Piano, and A World Premiere of "The Dybbuk Piano Trio" (2021) by Grammy-nominated composer Ilya Levinson , Composer-in-Residence at Sheridan Music Studio. The concert is then followed by a Book presentation by Karen Kaplan, Author of "Conjoined: A Holocaust Haunting- One Man, Two Hearts and Me", and concludes with a three-way discussion with the Pianist, the Composer and the Author. Virtual Livestream tickets start at $15 each, and the proceeds will go to help establish scholarships for young aspiring musicians. www.susanmerdingerpianist.com www.karenlkaplan.com www.ilyalevinsonmusic.com
Grand Prize Winner in Recital
Zhisheng Wang, piano
Sheridan Music Studio is pleased to announce the Grand Prize Winner of the Bach with a View International Festival and Competition, Pianist Zhisheng Wang, will appear in recital as part of the Music With a View Concert Series at Sheridan Music Studio Chicago. Seating is limited, masks and proof of vaccination will be required to attend. A professional Livestream of the concert will be available for purchase at sheridanmusicstudio.in.live.
Mr. Wang was selected to be the Grand Prize Winner by a distinguished jury of the Bach with a View International Festival and Competition, and he is already a winner of numerous prizes and scholarships. He is currently studying for his Master of Music in Piano Performance at the University of Michigan, and previously received his BM degree from the Manhattan School of Music.
Introducing A New Lecture Recital Series on IN.LIVE
Svetlana's View is available now!
Join Svetlana for her in-depth lectures about music with exciting visuals and actual live concert video footage.
Many programs available now at sheridanmusicstudio.in.live
Announcing the Mozart with a View International Young Artists Festival and Competition
Application Deadline: January 1st, 2022; Late Deadline: January 15. 2022
Our Festival and Competition is for ALL AGES AND LEVELS. Focusing on the works of W.A. Mozart, we will invite participants in Piano, Strings, Voice, Chamber Music and Concertos.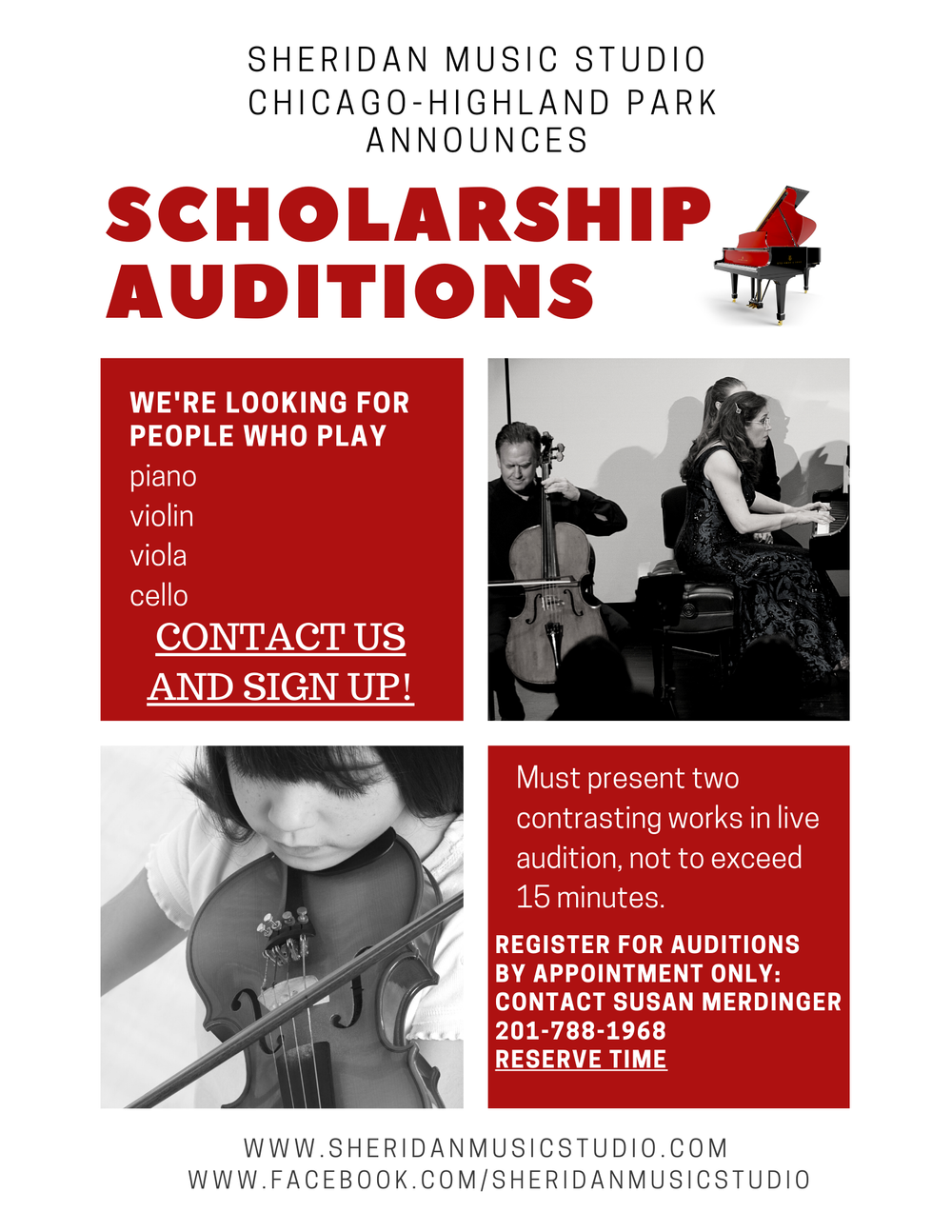 Announcing our first-ever SCHOLARSHIP AUDITIONS
Come study with two Steinway Artists in downtown Chicago!
Audition-interviews required.Sign up now! Pay a small fee for your audition and evaluation and get it returned upon completion of your audition.
Sheridan Music Studio and IN.LIVE proudly announce The "Bach with a View" International Competition and Festival for Young Artists
On March 5-7, 2021
The dynamic duo of Steinway Artists Susan Merdinger and Dr. Svetlana Belsky are back at it again with their second Annual Young Artists Festival and Competition. This year's competition and the festival will be "Bach with a View", and focus entirely on works by Johann Sebastian Bach, in conjunction with Bach's birthday on March 5-7, 2021. As Co-Artistic Directors of Sheridan Music Studio LLC in Chicago, IL, Merdinger and Belsky inaugurated their Young Artist Festival held in-person at Sheridan Music Studio in February 2020 to resounding success for all participants and audience members alike. IN.LIVE, a new Silicon-Valley tech startup for live streaming music co-sponsored the events and will continue to do so for 2021.
The 2021 "Bach with a View" Festival and Competition has now been expanded to include two categories for both Piano and Strings. The distinguished jury is International in scope and includes distinguished Pianists and String Players: Jeffrey Biegel, Giacomo Scinardo, Svetlana Belsky, Susan Merdinger, and Jory Vinikour for the Piano Division and David Yonan, Charles Pikler, Martine Benmann, Nazar Dzhuryn, and Marta Szlubowska for the Strings Division.
Open to students in three age groups 8-13 years, 14-18 years, and 18 -23 years, the Competition and Festival aim to inspire and motivate young music students to recognize their fullest potential and to provide an opportunity to focus on a particular composer or genre of music. This year's Festival and Competition is expanded but also VIRTUAL, which will enable students from around the world to participate and benefit from all that is being offered. Taking place over three days, the festival will include Lecture-Recitals, a Special Bach-Gala Concert, MasterClasses for selected non-Finalists and Finalists, and the airing of the pre-recorded performances by a selected group of Finalists. The Top prize winners in each group and category will receive prizes and certificates and may be awarded the opportunity to perform in Sheridan Music Studio's Music with a View Concert Series in downtown Chicago.
About Sheridan Music Studio's Artistic Directors:
Steinway Artist Susan Merdinger is a multi-awarded classical pianist, music director, recording artist, and educator with a distinguished career. She has been internationally acclaimed in prestigious newspapers and journals for her stunning performances. Critics have described her playing as "eloquent", "spellbinding", and "virtuosic". With a riveting stage presence, she regularly commands standing ovations from her emotionally charged and spiritually uplifting performances with orchestras and solo recitals in major concert halls around the world. Indeed, performances by Ms. Merdinger are a celebration of a life passionately immersed in classical music.  Merdinger is an alumna of Yale University, the Yale School of Music and the Manhattan School of Music. 
Steinway Artist, Dr. Svetlana Belsky, is an award-winning recitalist, chamber pianist, and recording artist, noted for her remarkable rapport with audiences and stylistic versatility. She has toured internationally in Ukraine, Russia, Poland, Italy, Canada, China, Taiwan, Hong Kong, and throughout the United States, performing at Carnegie Recital Hall, Kiev Philharmonic Hall, Dame Myra Hess Series, Music in the Loft, Chicago's Cultural Center and Harris Theater, countless university concert series, live recitals on Chicago's WFMT and New York's WQXR. Dr. Belsky served as the Director of the Piano Program at the University of Chicago for fifteen years, teaching students from four continents, guiding numerous students to victories in competitions for professionals and amateurs alike.
About IN.LIVE:
In.Live's mission is to empower artists and their fans to create immersive moments together through the power of live digital experiences. Artists can leverage the best of live streaming technology to create captivating shared moments through the power of live music, in real-time. The team at In.Live is led by veteran entrepreneurs and technologists, who above all else love music and the creative process and who have held senior leadership roles at companies such as Apple, Microsoft, Ticket Master and Yahoo!